Marjan Moosavi
Founder and Principal Investigator (Iran, Canada)
Marjan Moosavi holds a Ph.D. in Theatre and Performance Studies from the University of Toronto's Centre for Drama, Theatre, and Performance Studies where she trained in the theory and craft of theatre-making, dramaturgy, and diasporic performances. She is the Lecturer at Roshan Institute for Persian Studies, University of Maryland. Marjan has served as a faculty member and designed curricula for the University of Toronto, York University (Canada), Portland State University (U.S.A), and Parand Azad University (Iran). Marjan is the author of several scholarly articles, book chapters, and interviews published in The Drama Review (TDR), New Theatre Quarterly, Asian Theatre Journal, Ecumenica) and online journals (Critical Stages, and Arab Stages). She is the Principal Investigator and Curator for the First Photo Exhibition on the Middle Eastern Theatre and the Regional Managing Editor of the Iran section for TheTheatreTimes.com. Recent collaborations include those with Gatherings (University of Toronto), IPCCR (International Program for Creative Collaboration & Research, University of Maryland), Persian Digital Humanities (University of Maryland) and Nowadays Theatre (Toronto). marjanmoosavi.com
DGTOME
Adam A. Elsayigh
Assistant to Principal Investigator (Egypt)
Adam A. Elsayigh is an Egyptian playwright, dramaturg, producer, educator, and translator. Through his producing and creative practices, Adam interrogates issues of immigration, colonialism and the experience of queerness in the Middle East. Some of Adam's plays include Memorial, Jamestown/Williamsburg, and Drowning in Cairo. Adam is the Roundtables and Casting Apprentice at The Lark Center for Play Development, an Associate Artist at National Queer Theater, and a member of The Writer's Roundtable at The Joust Theater Company. Adam's work has been seen at IRT Theater, Dixon Place, Golden Thread Productions, and The NYU Abu Dhabi Arts Center. He holds a BA in Theater with an emphasis in Playwriting and Dramaturgy from NYU Abu Dhabi.
DGTOME
Arjun Dhawan
Assistant to Principal Investigator (UAE)
Arjun Dhawan (he/him) is an Emirate-born performance artist with Desi blood running in his veins. He immigrated to study Drama at Tisch and has since made NYC his home. Arjun strives to bring authenticity and perspective to the room through his work as an actor. With experience in post-media production for vendors, he is expanding his skill set during the pandemic and developing various short films as Director of Photography. Arjun is currently on the search for opportunities that will move him out to the West Coast in 2021. Arjun holds a BFA in Drama and a BA in Econometrics from New York University. emailme@arjundhawan.co
DGTOME
Martin Yousif Zebari
Assistant to Principal Investigator (Iraq, US)
Martin Yousif Zebari (he/they) is an Iraqi-born, Assyrian-American actor, playwright and advocate living and working in the diaspora. He grew up in Iraq and Syria until he immigrated to the U.S. in 2002. Martin's work as an artist examines displacement at the intersections of queerness, culture and duty. Through art and advocacy, he works with his community to explore and implement equitable and anti-racist practices. He has been a part of several SWANA-centered new play developments and has also led several organizational and advocacy efforts to uplift SWANA voices, stories and communities. His first play, Layalina, was workshopped and had a staged reading as part of Goodman Theatre's Future Labs in early 2021. As an actor, his credits include: National Queer Theatre, The Angle Project, Goodman Theatre, Steppenwolf Theatre Company, Chicago Shakespeare Theatre, Court Theatre, Broken Nose Theatre Company, Milwaukee Repertory Theatre, and Illinois Shakespeare Festival. Martin holds a BFA in Acting from the Arts University of Bournemouth, England and is represented by Stewart Talent Chicago. Martinyousifzebari.com
DGTOME
Hamid Dehghan
Website Developer
Hamid is a Civil Engineer and freelance developer holding masters degree from Tehran University. He runs DGTOME websit.
DGTOME
Mehdy Sedaghat Payam
Content Developer
Mehdy Sedaghat Payam is a pioneering scholar in the field of Persian Digital Humanities. He holds a Ph.D. in English from Victoria University of Wellington, and will soon receive his second PhD. in Comparative Literature from University of Maryland. Mehdy focused on Persian Digital Humanities after he finished his first PhD. He has presented at many conferences and written several book chapters and scholarly articles. Mehdy has also been the reviewer for prestigious conferences and journals. Mehdy has been awarded the Islamicate Digital Humanities Fellowship twice, and has collaborated with the OpenITI team on a Mellon-funded project to develop an OCR engine for Persian and Arabic texts.
DGTOME
Abdelfattah Abusrour
Contributor (Palestine)
Abdelfattah Abusrour is an author, actor, and theatre director. He is the founder and director of Alrowwad Cultural and Arts Society, established in 1998 in Aida refugee camp-Bethlehem. His concept and philosophy "Beautiful Resistance", using performing and visual arts, culture and education, is a creative and peaceful expression in situations of oppression and trauma to provide possibilities to save lives and inspire hope. Abusrour is a co-writer of the plays Salut c'est nous and Nourrir de faim. Along with Naomi Wallace and Lisa Schlesinger, he also co-wrote Twenty-One Positions. He has written, adapted or performed in many plays produced in Palestine, including Waiting for the Rain, Staying Alive and When Old Men Cry. He wrote and directed Tent, The Orphan, We Are the Children of the Camp and Blame the Wolf, which toured Europe and the U.S. His short play Far Away from a Village Close By won first prize in London in 2006 in the Deir Yassin Remembered Festival. His play, Handala, performed in Palestine before touring in France and Luxembourg. Abusrour was elected President of the Palestinian Theatre League for 2 mandates in 2009 till 2013, is the first Ashoka fellow-Social Entrepreneur in Palestine, and he is a Synergos - social innovator fellow. The organization he founded, Alrowwad cultural and arts society was awarded the Stars Foundation Impact Award in 2017.
DGTOME
Amir Al-Azraki
Contributor (Iraq)
Amir Al-Azraki is an Iraqi-Canadian playwright, literary translator and an Assistant Professor of Arabic language, literature, and culture (Renison University College, University of Waterloo). He is a Theatre of the Oppressed practitioner who works across cultures to highlight and facilitate discourse and interchange through his work. His projects in Applied Theatre have been employed in workshops throughout Canada, USA, Argentina, and Iraq. He has worked with women artists, students, and refugees, utilizing Theatre of the Oppressed techniques to address human rights issues. Among his plays are: Waiting for Gilgamesh: Scenes from Iraq, Stuck, The Mug , and The Widow. Al-Azraki is the author of The Discourse of War in Contemporary Theatre (in Arabic), co-editor and co-translator of Contemporary Plays from Iraq, and co-editor and co-translator of several published poems by Arab female poets.
DGTOME
Ayham Majid Agha
Contributor (Syria)
Ayham Majid Agha, born in Syria in 1980, is an actor, writer and director. In addition to longer stays abroad in the Arab Emirates, South Korea, Tunisia, Turkey and England, he is a graduate of the prestigious Academy of Performing Arts in Damascus, where he served as a junior professor from 2006-2012. From 2005-2012, he was a co-founder and member of Theatre Studio, which conducted interactive theatre projects in Syrian villages. He has had numerous engagements at theatres in Damascus, Manchester, Amman, Beirut, Cairo, Seoul, Paris, Lyon, München and Hanover. He has been living in Germany since 2013 and has mainly worked at the Maxim Gorki Theater in Berlin- most recently as senior director and co-founder of the Exil Ensemble at the Maxim Gorki Theater. As an actor, he appeared in the productions In Our Name, The Mission, The Situation and with using his text I'hom Hamlet in the production Hamlet Machine. Together with the novelist Olga Grjasnowa, he directed the interactive theater cooking show Conflict Food. In 2016, he was invited to the Theatertreffen festival as a performer in The Situation. In 2017 he opened the season in the Studio Я of the Maxim Gorki Theater with his play Skeleton of an Elephant in the Desert. He was invited to the Radikal Jung 2018 - the festival for young directors and was awarded the Young Theater Critics Award.
DGTOME
Baharak Sahami
Contributor (Iran)
Baharak Sahami is a faculty member of English Language and Literature Department in Islamic Azad University, Iran. She is also The Theater Times editor of Iran, and translator. She received her MA in English Language and Literature from Shahid Beheshti University, Tehran, Iran. Her main areas of interest are literature and peace studies.
DGTOME
Deniz Başar
Contributor (Turkey)
Deniz Başar is a theatre researcher, puppet maker and two-time national award-winning playwright from Turkey. In 2014, she received one of the most prestigious playwriting awards in Turkey (Mitos-Boyut theatre publishing agency's annual contest) for her play The Itch, which was published in the award winning collection of that year. In 2016, she won the Derbent Playwriting Contest, which was a collaboration project between Iranian and Turkish independent theatre artists, with her play, In the Destructible Flow of a Vast Monolithic Moment, and her play was translated into Persian. Some selected research includes; "Intimate Enemies and Geographies of Betrayal: Representation of the Impact of Kurdish-Turkish War in Micropolitics of Daily Life" in Palgrave Handbook of Theatre and Race; and "Feminist Erotic Puppet Theatre from Istanbul with Love" in Women and Puppetry: Critical and Historical Investigations by Routledge. She is expecting to finish her PhD in Humanities Department of Concordia University, with her thesis on contemporary theatre aesthetics in Turkey, within 2020.
DGTOME
Duygu Çelik
Contributor (Turkey)
Duygu Çelik is an assistant professor at the department of Dramatic Writing, Fine Arts Faculty in Munzur University (Tunceli, TURKEY). Duygu received her bachelor's degree in Mathematics. Her master's thesis is the first academic study that has dealt with Modern Improvisational Theatre in Turkey. Her PhD degree was defendeed by her dissertation entitled The Dengbêjî Tradition and Its Effects on Kurdish Theatre in Turkey. For her dissertation she undertook a five year field study and collected audio and video archives about dengbêjs and Kurdish theatre. It's the first dissertation which focuses on Kurdish Theatre in Turkey. She specializes in narrative tradition (especially dengbêjî), traditional theatre and Kurdish Theatre. She has taught lessons about dramaturgy and theatre history in different universities in İstanbul, Turkey. Her play criticisms and book reviews have been printed in journals and newspapers. She has worked as a dramaturg and director with different amateur and professional theatre groups.
DGTOME
Eylem Ejder
Contributor (Turkey)
Eylem Ejder is a PhD candidate in the Department of Theatre at Ankara University, Turkey. She is a theatre critic and researcher based in Istanbul, co-editor of the theatre magazine Oyun (Play) and co-founder of Feminist Çaba (Feminist Endeavor), a collaborative criticism and writing group between four women critics. She studied as a guest researcher at the Center for Ibsen Studies at Oslo University in 2017. She participated in Mellon School of Theatre and Performance Research at Harvard University, 2018 session "Public Humanities". Her essays appeared in European Stages, Critical Stages, Platform, Arab Stages, Monograph, Artism, and in numerous Turkish theatre journals and magazines. Her PhD studies are being supported by The Scientific and Technological Research Council of Turkey (TUBITAK) within the National PhD Fellowship Programme. She is currently writing her thesis on post-2000s Turkish theatre. For more information about her work: https://ankara.academia.edu/EylemEjder
DGTOME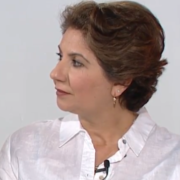 Dr. Hadeel Abdelhameed
Contributor (Iraq)
Dr. Hadeel Abdelhameed is an honorary academic staff member in theatre and drama studies at the department of English and Creative Arts/ La Trobe University, with a work focus on gender and theatre of war, more specifically in Iraqi theatre. More broadly, her research interests center the cultural-political clash under totalitarian regimes and the role of theatre in shaping the public awareness of political and gender issues. Dr. Abdelhameed's publications ask timely questions in the era of #MeToo. Her work has been published in Intellect, Arab Stage, MDPI Humanities and Australian Institute of International Relations. Dr. Abdelhameed holds a PhD from La Trobe University, a post-graduate Diploma of Education from RMIT University and a M.A. from Baghdad University.
DGTOME
Humaira Ghilzai
Contributor (Afghanistan, US)
Humaira Ghilzai, the Afghanistan Cultural Advisor, has been working with notable professional theatres and artists for the past ten years, utilizing her extensive knowledge of Afghan people, culture, religion, and history. Credits include the world premieres, US and UK tours of the adaptations of New York Times best-selling author Khaled Hosseini's A Thousand Splendid Suns and The Kite Runner; Tony-winner J.T. Roger's Blood and Gifts (La Jolla Playhouse); Kevin Artigue's The Most Dangerous Highway in the World (Golden Thread); Gabriel Jason Dean's Heartland (five theatres rolling world premiere) and In Bloom; The Prepared Table, A Feast of Foods and Stories From Iraq, Afghanistan and the F.O.B.(Alice Arts); Slow Falling Birds (University of San Francisco); and Zealot (South Coast Repertory). Film and television credits: Merry Friggin Christmas; Whiskey Tango Foxtrot; and short film; Away and Together. Television: Little America. Humaira is a part of the MENA Theatre Makers Theatre Alliance Network, and a reader for the 2020 Bay Area PLaywright's Festival. www.humairaghilzai.com
DGTOME
Iman Aoun
Contributor (Palestine)
Iman Aoun is an actor, director and dramaturg. She has an extensive record on stage, on screen, and behind the scenes. She was a member of the world-renowned El-Hakawati theatre, from Jerusalem, in the 1980s. In 1991, Iman co-founded ASHTAR for Theatre Productions and Training in Jerusalem, and has been instrumental in directing and devising several productions for the company. An internationally recognized theatre trainer who specializes in the Theatre of the Oppressed techniques, Iman is also initiator of the project 100 artists for Palestine in 2003. Ms. Aoun produced and performed in ASHTAR Theatre's Richard II that toured to Shakespeare's Globe Theatre as part of the Globe to Globe Festival in 2012. She was also the initiator of the international call "The Syrian Monologues" based on the stories of Syrian Refugees 2015-2016. She has been coordinating the One Billion Rising in Palestine between 2014 – 2016, a global call to end violence against women and girls initiated by V-Day. She continues to lead ASHTAR Theatre and works regularly in difficult social and political contexts. She is a board member of The Palestinian Performing Arts Network and other Palestinian Art Organizations. To learn more about ASHTAR Theatre, visit www.ashtar-theatre.org; www.gazamonologues.com; https://www.facebook.com/iman.aoun.18
DGTOME
Kareem Fahmy
Contributor (Egypt)
Kareem Fahmy is a Canadian-born playwright and director of Egyptian descent. His plays, which include A Distinct Society, The Triumphant, Pareidolia, The In-Between, and an adaptation of the acclaimed Egyptian novel The Yacoubian Building, have been developed at theatres across the country. Fellowships/Residencies: Sundance Theatre Lab, Oregon Shakespeare Festival (Phil Killian Directing Fellow), Eugene O'Neill Theatre Center (National Directors Fellow), Second Stage (Van Lier Directing Fellow), Soho Rep (Writer/Director Lab), Lincoln Center (Directors Lab), New York Theater Workshop (Emerging Artist Fellow & Usual Suspect). Kareem has directed new work at MCC, The New Group, The Atlantic, Ensemble Studio Theatre, New Dramatists, The Civilians, Geva Theatre, Pioneer Theatre, Silk Road Rising, Berkeley Rep, and many others. Kareem is the co-founder of the Middle Eastern American Writers Lab at The Lark and of Maia Directors, a consulting group for organizations and artists engaging with stories from the Middle East and beyond. MFA: Columbia University. www.KareemFahmy.com
DGTOME
Khalid Al-Rowaie
Contributor (Bahrain)
Khalid Al-Rowaie is a theater and film director, playwright, screenwriter, arts manager, actor, cultural activist and set designer. Al-Rowaie's theatre productions stray away from traditional theatre design; he relies on redesigning the space to suit the nature of his performances. His directorial works always include his own set designs; integrating several elements (body, lighting, and video projection) into his design. Al-Rowaie has directed and produced over 30 theatre, music and dance productions since 1993, along with publishing many books and acts as a Jury member for different theatre & cinema festivals.
DGTOME
Laura Espino
Contributor (US)
Laura Espino is an educator and performing artist. As the Program Manager for Fairytale Players, she spearheads the TYA Program at Golden Thread Productions. She is a SFUSD high school teacher at Ruth Asawa School of The Arts. As a performing artist, her work includes credits with Theatreworks Silicon Valley, American Conservatory Theatre, The Magic Theatre, Custom Made Theatre, Playground and California Shakespeare Theatre. She is a Theatre Bay Area Award Nominee, and currently an MLA Candidate at Stanford University.
DGTOME
Lina Attel
Contributor (Jordan)
Lina Attel is/has been the Founder and General Director of the National Centre for Culture and Arts (NCCA) of King Hussein Foundation since 1987. Lina is recognized for her pioneering role in introducing drama into mainstream education and for the enhancement of the performing arts movement in Jordan; establishing the first professional National Interactive Theatre Troupe (NITT) in 1989 and the Theatre Arts School in cooperation with the John F. Kennedy Centre for the Performing Arts, Washington DC. As a theatre practitioner she has conceived and directed several musicals and interactive plays on social issues, and published multiple research papers on the role of theatre in shaping opinion and impacting social change. Her theatre work has contributed to national and regional initiatives and campaigns related to the empowerment of women and gender equality. Lina has served as a member of the Advisory Committee of Experts for the UNESCO World Report on Cultural Diversity 2008, and was a member of the Greater Amman Municipality City Council where she initiated the Arts For All Program in public parks and libraries in Amman in 2010.
DGTOME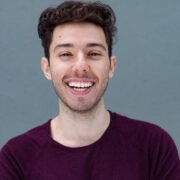 Maher Sinno
Contributor (Lebanon, Canada)
Maher Sinno (he/they) is a graduate of the University of Toronto with a double major in Theatre & Conflict Resolution and a minor in Psychology. Since graduation, Maher has worked with organizations such as Theatre Passe Muraille, Buddies in Bad Times, & Cahoots Theatre. He has also performed with companies across Canada; namely, Fifi/Zidan in The Green Line (Edmonton Fringe Festival), Ali in Tales of a City By The Sea (Theatre Passe Muraille/Tkaronto), & Abe in 76 Centimeters (St John's Short Plays Festival). Currently, Maher is writing a play titled Mhajjir. Maher's work centers decolonization and equity with a focus on developing sustainable equity practices in theatre for marginalized groups such as folks from the SWANA region, racialized individuals, & queer folks. Maher wishes to continue such practice through his research for The Digital Guide to the Theatre of the Middle East.
DGTOME
Masrah Ensemble
Contributor (Lebanon)
Masrah Ensemble (Contributor) is a nonprofit theatre company and organization that makes, develops, and fosters research and criticism of theatre with a focus on the Arab stage. Their work has been supported by the Prince Claus Fund, Hivos, Arab Fund for Arts and Culture, Violet Jabara Charitable Trust, Ettijahat – Independent Culture, Theatre Communications Group, Young Arab Theatre Fund, and Culture Resource. Masrah: Theatre Texts is a digital platform that publishes international plays authored in and translated to Arabic. Launched in 2019, It aims to propose a new way of reading plays in the age of digital and computational technology. https://masrahensemble.org/
DGTOME
Melike Saba Akım
Contributor (Turkey)
Melike Saba Akım is a theatre critic and faculty member in the Department of Performing and Visual Arts at Istanbul Medeniuet University. She studied Theatre Criticism and Dramaturgy (BA) and Art History (BA, minor) at Istanbul University. She obtained her MA degree in Comparative Literature from Yeditepe University and conducted her dissertation studies as a guest researcher at the Theatre and Performance Department at Goldsmiths, University of London and Special Collections, Beckett International Foundation at University of Reading simultaneously. She received her PhD with her thesis, entitled Anti-narrativity in Drama after Historical Avant-garde from the Theatre Criticism and Dramaturgy Department of Istanbul University. Her main research areas are drama/performance relationship and texts-in-performance. Akım is a member of International Association of Theatre Critics, Turkey and have been writing reviews and critiques for various magazines such as Art Unlimited and the journal TEB Oyun. Since 2019, she has been conducting hausbühne with Noyan Ayturan, a youtube channel on contemporary theatre scene and criticism. https://maltepe.academia.edu/MelikeSabaAkım
DGTOME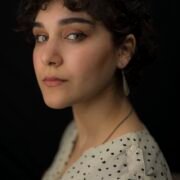 Melory Mirashrafi
Editor (Iran)
Melory Mirashrafi is a first-generation Iranian-American dramaturg, actor, and director from Oregon. Melory was the 2019-2020 Literary Apprentice at the Huntington Theatre Company in Boston, a 2019 Young Conservatory Intern with the American Conservatory Theater in San Francisco, and has appeared as a guest artist or lecturer across Oregon and Massachusetts, including Southern Oregon University, Opera Theatre Oregon, Aquilon Music Festival, Speakeasy Stage, Harvard University and more. Melory's work focuses on new play development, dramaturgy, and archival of plays by contemporary SWANA (Southwest Asian and North African) and Muslim playwrights, and her writing has appeared in Howlround Theatre Commons, Oregon ArtsWatch, Public Books, at the Association for Theatre in Higher Education's 2019 and 2020 national conferences, and upcoming in the Methuen Drama Book of Trans Plays and The Next Act: Approaches to the Theatrical Canon.
DGTOME
Niloofar Mohtadi
Contributor (Iran)
Niloofar Mohtadi is an Iranian journalist, translator and has an MA in Dramatic Literature from the Faculty of Art and Architecture at the Islamic Azad University Central Branch in Tehran. She has worked on the arts sections of various newspapers, websites and journals for over eight years, and currently works as a freelance translator for Trend News Agency and UNICEF. Her scholarly work includes an academic essay published in Tehran University Honar Haye Ziba (Fine Arts) Journal in 2016. Her paper was accepted to the Shakespearean Communities conference at the University of Portsmouth in the UK, in 2016. Her other work in theater includes collaboration with Papion Theatre Group, and public relations for the 400th anniversary of Shakespeare's death in Tehran that was hosted by the Tamashagan Institute of Performing Arts. She has also held a solo photography exhibition in 2012.
DGTOME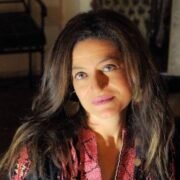 Nora Amin
Contributor (Egypt)
Nora Amin is a writer, performer, choreographer, theatre director and educator. Fellow of the centre for theatre of the oppressed (Brazil, 2003), S. Fischer guest professor for comparative literature (FU/Berlin 2004-2005), guest lecturer/Ford associate (acting) at Mount Holyoke College (USA, 2005), founder of The National Egyptian Project for Theatre of the Oppressed and its Arab network, fellow of the Academy of the Arts of the World (Cologne, 2015), fellow of the International Research Centre for Interweaving Performance Cultures (FU, 2015-2016), Valeska-Gert guest professor for dance sciences (FU, 2018), Mentor/expert at PAP (Performing Arts Program/Berlin) and Flausen program.
DGTOME
Onur Hamilton Karaoglu
Contributor (Turkey)
Onur Hamilton Karaoglu works between performance art and theater. Since 2010, his original and adapted writing and directing pieces were presented at spaces like garajistanbul, bomontiada Alt, Roxy, Heidelberg Theater and Rotterdam Schouwburg. His installations and video works were presented at Bahar (Sharjah Biennial 2017), SPOT, Operation Room and Artnivo. He is one of the founding members of Studio 4 Istanbul that is producing theater, film works and performance space KÖŞE in Yeldeğirmeni which then turned into an international performance festival. Between 2014-2019 he worked as the director of Orhan Pamuk's Museum Of Innocence in Istanbul. Karaoglu teaches a class dealing with the link between performance art and theater at Boğaziçi since 2013. He received BA in Sociology at Boğaziçi University and MFA in Theater Directing at Columbia University in New York.
www.onurkaraoglu.com
DGTOME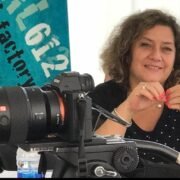 Sawsan Darwaza
Contributor (Jordan)
Sawsan Darwaza is an award winning theater and film director, producer, and writer. Sawsan has written and directed 6 of her 18 plays. She has also written and directed several TV series, films, portraits, and short youth programs. Darwaza chooses to evolve her work organically as she explores new spaces on the stage and the screen. She started her filmmaking career when she introduced audiovisual media in her theater work. The intermingling between film and theater offers her audiences new experiences, enabling her to venture into new ways of action and interaction, moving both mind and soul. Darwaza is the co-founder and the director of Ma3mal 612 – Think Factory and the Karama Human Rights Film Festival and the owner of Mir'at Media Productions.
DGTOME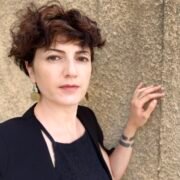 Sahar Assaf
Contributor (Lebanon)
Sahar Assaf is a theatre-maker based in Beirut. She is an Assistant Professor of Theatre at the American University of Beirut, where she recently co-established the AUB Theatre Initiative. She has been active in the Lebanese theatre scene since 2003. Her recent credits as a director include: Garcia-Lorca's Blood Wedding as a site-specific promenade performance, Shakespeare's King Lear, Meen El Felten, a documentary play on rape and sexual assault in Lebanon as part of Abaad Mena campaign of 2018 and No Demand No Supply, a documentary play about sex trafficking in Lebanon in collaboration with Kafa NGO and Ab: Beit Byout (an adaptation of Tracy Letts' August Osage County). Sahar is a member of Lincoln Center Director's Lab in NYC (2014), a member of Directors Lab North in Toronto (2017), co-founder and artistic director of Directors Lab Mediterranean (2019) and a Fulbright alumnus with an MA in Theatre Studies from Central Washington University (2011).
DGTOME
Stav Palti Negev
Contributor (Israel)
Stav Palti Negev (Israel) is an Israeli writer and playwright. Her play "Salim Salim," received the Best Play award at the 2014 Acco Festival of Alternative Israeli Theatre and ran for two years at Tmuna Theater in Tel-Aviv, 2015 – 2017. In 2021 it won The Woodward International Playwriting Prize and it will receive its English language premiere as part of the UNH Theatre and Dance's 2021/22 season. Her play "Elsewhere: a play for an audience of one" premiered at the Acco Festival in October 2016, in 2018 Stav developed a virtual reality (VR) adaption of the play in collaboration with The Public Theater, and in 2019 it received a second adaption as an audio play. Stav's work has been developed in the United States through Atlantic Theater Company, The Public Theater, MacDowell, The Lark, The Flea Theater, New York Live Arts, New York Foundation for the Arts, The Orchard Project, and The 14th Street Y, among others. Her plays have received productions with the Acco Festival of Alternative Israeli Theatre, Tmuna Theater (Tel-Aviv), and Nazareth Theater. Stav is a 2017 alumna of The Public Theater's Emerging Writers Group, a 2015/2017 HaPais Council for the Arts Artist award recipient, a 2016/2019 Asylum Arts development award recipient, and a member of the Middle Eastern American Writers Lab at The Lark in New York City. She is currently working on a script for a new Polish-Israeli film co-production and on a new play about her personal immigration story. Stav holds an M.A. in Performance Studies from NYU Tisch School of the Arts and a B.A. in Theater Studies from the Hebrew University of Jerusalem.
DGTOME
Torange Yeghiazarian
Contributor (Armenia, Iran, US)
Torange Yeghiazarian is the Founding Artistic Director of Golden Thread Productions, the first American theatre company focused on the Middle East where she launched such visionary programs as ReOrient Festival, New Threads, Fairytale Players, and What do the Women Say?, and timely initiatives such as Islam 101 and Project Alo? Torange has been recognized by Theatre Bay Area and is one of Theatre Communication Group's Legacy Leaders of Color. She was honored by the Cairo International Theatre Festival and the Symposium on Equity in the Entertainment Industry at Stanford University. Her writings are published in Casting a Movement, Gleeditions.com, The Drama Review, American Theatre Magazine, AmerAsia Journal, and contributed to Encyclopedia of Women & Islamic Cultures and Cambridge World Encyclopedia of Stage Actors. At Golden Thread, Torange directed Oh My Sweet Land by Amir Nizar Zuabi, and the premieres of Our Enemies: Lively Scenes of Love and Combat and Scenic Routes by Yussef El Guindi, The Myth of Creation by Sadegh Hedayat, Tamam by Betty Shamieh, Stuck by Amir Al-Azraki, Voice Room by Reza Soroor, and adapted the poem, I Sell Souls by Simin Behbehani for the stage. Torange was a member of the artistic team that developed Benedictus, a collaboration among Iranian, Israeli, and American artists. She received a Gerbode-Hewlett Playwright Commission Award for Isfahan Blues, a co-production with African American Shakespeare Company, and a commission from the Islamic Cultural Center of Northern California to write The Fifth String: Ziryab's Passage to Cordoba. Other plays include 444 Days, Waves, and Call Me Mehdi, included in the anthology Salaam. Peace: An Anthology of Middle Eastern-American Drama, TCG, 2009. Born in Iran and of Armenian heritage, Torange holds a Master's degree in Theatre Arts from San Francisco State University.
DGTOME